How we began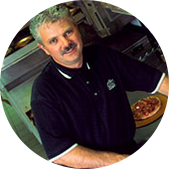 Richard believed he was drawn to Calgary for a purpose and trusted that was where his family was meant to be. Not knowing where the next opportunity may lie and being faced with life's challenges, Richard found his faith.
With this faith, he was able to keep an open mind to where his life was about to take him. As we all do when we move to a new city, he started to experience the local restaurants.  Richard always had a love for pizza and discovered that he could not find the quality of pizza that he was looking for.  He wanted a thick but light crisp crust with plentiful and quality toppings.  It had to have the best tomato sauce, quality meats, fresh, crisp vegetables and a good portion of mozzarella.
He decided to set up a test kitchen in his garage after visiting the Pizza Expo in Las Vegas to develop the quality of pizza that he was looking for.  After testing his delicious and unique recipes on appreciative friends and neighbors, the news traveled quickly and he had already created a demand for what became Coco Brooks, a people company serving pizza.
After completing his own renovations, the first location opened on April 19, 1999 on Burbank Road.  In 2001 a second location was opened on 32nd Ave NE and in 2004 the Burbank location was relocated to the 42nd Ave SE location.  As the success of these locations grew, in 2010 he opened the newest location on 52nd Street SE, which is also the home of the administration offices and commissary.
Richard`s desire to help others is seen by all of those who know him.  It can be seen from the vast amount of frozen pizzas prepared for fundraisers of organizations raising much needed funds, to his dedication of community involvement.  There are also thirteen Calgary school kiosk locations currently open with more to be added in order to provide students a hot, fresh, healthy lunch.
With his unwavering commitment to serve others, his focus is entirely on what he can provide for customers, for staff, and for the community.  Coco Brooks truly cares about building strong relationships with people and all decisions are made with this in mind.  Whether it's serving quality food with great value to customers or impacting peoples daily lives with inspirational stories on the pizza boxes, nothing is more important than to have a positive impact in someone's life.  Coco Brooks truly is a people company.