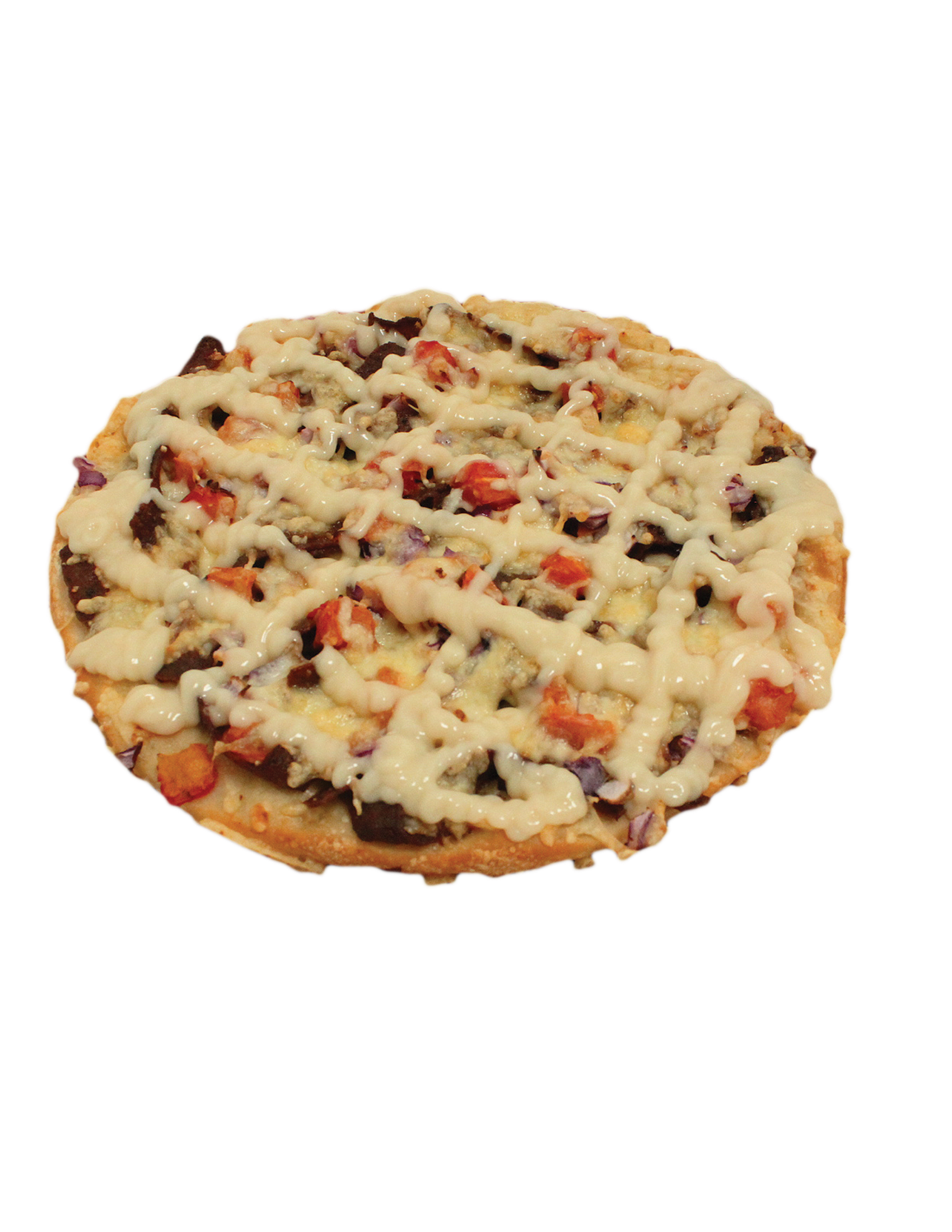 Online Ordering for pickup is now available! Order Online!
Please call your nearest
location
for delivery orders.
Veggie
Our light and crisp original crust, 100% real mozzarella cheese, sun ripened tomato sauce, sweet pineapple chunks, diced tomatoes, green bell peppers,
Nutrition Facts
Serving Size 89g
Servings 4
Amount Per Serving
Calories 208.0
Calories from Fat 63.0
% Daily Value *
Total Fat 7.0g
11%
Saturated Fat 3.0g
15%
Trans Fat 0.0g
Cholesterol 20.0mg
7%
Sodium 378.0mg
16%
Total Carbohydrate 27.0g
PDV_Carbohydrates%
Dietary Fiber 2.0g
7%
Sugars4.0g
Protein 9.0g
Vitamin A
6%
Vitamin C
15%
Calcium
15%
Iron
11%
* The Percent Daily Values are based on a 2,000 calorie diet, so your values may change depending on your calorie needs.
Cooking Instructions

- Thaw (for Best Results) 1-2 hrs on counter or 8 hrs in fridge
- Preheat Oven 350F (177C)
- Remove plastic packaging
- Place thawed pizza on baking sheet middle rack
- Bake 18-22 minutes
- Careful not to over bake!
- Cool before serving
- Enjoy! comments@cocobrooks.com

For food safety and quality, cook to an internal temperature of 165F (74C)
Available: Hot $8.57 Take N' Bake $8.00 Frozen $8.00
Description: Our light and crisp original crust, 100% real mozzarella cheese, sun ripened tomato sauce, sweet pineapple chunks, diced tomatoes, green bell peppers,
Ingredients: crust(Enriched wheat flour, water, canola oil, sugar, yeast, salt, enzymes.), mozzarella cheese(milk, modified milk ingredients, salt, bacterial culture, calcium chloride, microbial enzyme), pizza sauce(tomatoes, blend of extra virgin olive oil and sunflower oil, fresh sauteed onions, salt, roasted garlic, fresh basil leaves and naturally derived citric acid), pineapple(pineapple pieces, water, sugar, citric acid), diced tomatoes, green bell peppers, food starch(modified corn starch)
Contains: Gluten, Milk, Wheat
Six 80 10"

Hot $15.95
Frozen $14.00
Our light and crisp 10" original crust, 100% real mozzarella cheese, sun ripened tomato sauce, dry cured pepperoni, sweet Italian sausage, thick cut mushrooms, green bell peppers, white onions

Beef Mushroom Tomato 10"

Hot $15.24
Frozen $13.00
Our light and crisp 10" original crust, 100% real mozzarella cheese, sun ripened tomato sauce, thick cut mushrooms, lean ground beef, tomatoes

Athens 10"

Hot $15.24
Frozen $13.00
Our light and crisp 10" original crust, sun ripened tomato sauce, 100% real mozzarella cheese, red bell peppers, grape tomatoes, black olives, red onions, tangy feta, oregano

Buffalo Ranch 10"

Hot $15.24
Frozen $13.00
Chicken breast strips in our buffalo ranch sauce, Our light and crisp 10" original crust, 100% real mozzarella cheese

Desperado 10"

Hot $15.24
Frozen $13.00
Our light and crisp 10" original crust, 100% real mozzarella cheese, black forest ham, thick cut mushrooms, sun ripened tomato sauce

Donair 10"

Hot $15.24
Our light and crisp 10" original crust, donair beef strips, 100% real mozzarella cheese, diced tomatoes, sweet sauce, red onions, cilantro

Mardi Gras 10"

Hot $15.24
Frozen $13.00
Our light and crisp 10" original crust, spicy blend of hot sauce, parmesan and chicken breast strips, 100% real mozzarella cheese, sweet pineapple chunks

Margherita 10"

Hot $15.24
Frozen $13.00
Our light and crisp 10" original crust, 100% real mozzarella cheese, sun ripened tomato sauce, grape tomatoes, grated parmesan, oregano

Maui 10"

Hot $15.24
Frozen $13.00
Our light and crisp 10" original crust, chicken breast strips in a hickory BBQ sauce, 100% real mozzarella cheese, sweet pineapple chunks

New Orleans Veggie 10"

Hot $15.24
Frozen $13.00
Our light and crisp 10" original crust, 100% real mozzarella cheese, thick cut mushrooms, green bell peppers, red bell peppers, red onions, hot sauce

No Cheese Veggie 10"

Hot $15.24
Frozen $13.00
Our light and crisp 10" original crust, sun ripened tomato sauce, sweet pineapple chunks, green bell peppers, red bell peppers, diced tomatoes, red onions, oregano

Odessa 10"

Hot $15.24
Frozen $13.00
Our light and crisp 10" original crust, spinach, sun ripened tomato sauce, 100% real mozzarella cheese, grape tomatoes, tangy feta, granulated garlic

Palazzo 10"

Hot $15.24
Frozen $13.00
Our light and crisp 10" original crust, 100% real mozzarella cheese, black forest ham, sun ripened tomato sauce, dry cured pepperoni

The 808 10"

Hot $15.24
Frozen $13.00
Our light and crisp 10" original crust, 100% real mozzarella cheese, sun ripened tomato sauce, thick cut mushrooms, diced tomatoes, crumbled bacon, black pepper
Simple Selections
Cheese 10"

Hot $12.62
Frozen $11.50
Our light and crisp 10" original crust, 100% real mozzarella cheese, sun ripened tomato sauce, aged cheddar, parmesan

Cheeseburger 10"

Hot $13.10
Frozen $11.75
Our light and crisp 10" original crust, 100% real mozzarella cheese, lean ground beef, burger sauce, aged cheddar

Ham Pineapple 10"

Hot $12.62
Frozen $11.50
Our light and crisp 10" original crust, 100% real mozzarella cheese, sun ripened tomato sauce, sweet pineapple chunks, black forest ham

Pepperoni 10"

Hot $12.62
Frozen $11.50
Our light and crisp 10" original crust, 100% real mozzarella cheese, sun ripened tomato sauce, dry cured pepperoni

Veggie 10"

Hot $12.62
Frozen $11.50
Our light and crisp 10" original crust, sun ripened tomato sauce, 100% real mozzarella cheese, sweet pineapple chunks, green bell peppers, mushrooms, diced tomatoes